Mr. China's Son Cafe,
An Unique Cultural Exchange Café
| | |
| --- | --- |
| | Mr. China's Son Cultural Exchange Café was opened in June 1995. It is just a small cafe, located in a back street, but we are particularly outstanding in cultural exchange. Frankly speaking, we are not businessmen. We did not hope to make a lot of money in the café. The main reason we opened this cafe is to meet readers of Mr. China's Son and build a bridge between western tourists and Yunnan. |
Our cafe is not so big, but very unique. We stress cultural exchange, and the main business is to give a hand to young students and supply travelers with some "FOOD FOR THE MIND." Many interesting Bai Minority tools and arts have been collected and shown on the wall with introductory labels. Many tourists found interesting to see them and said, "It is really a mini-museum".

Since its features are so unique, half a year later, it was mentioned in '96 edition of Lonely Planet. Later many other guide books began to recommend our cafe. Now, almost all well known guide books recommend it. For many tourists to Dali, to drop in and have a cup of coffee has become a must.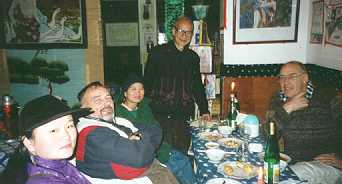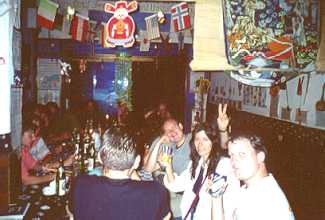 | | |
| --- | --- |
| Travelling is quite a pleasant thing, but we usually see the things on the surface. We hardly get deep into the lives of the people, nor know why people are living like this. Therefore, we started to collect material for our guests to read and reference. One of our material is called "Mr. China's Son Lonely Planet", tourists like it very much. | |
In this booklet, we collected and edited quite a number of up-to-date practical information about Dali, which will let you know many things about this area and give you many useful suggestions while you are travelling in Dali. There are many detailed maps in the booklet. We are sure that our booklets have been helping many tourists avoid troubles.
Among all material we can offer, the books Mr. China's Son and The Spring of Butterflies are mostly welcomed by all tourists.
| | |
| --- | --- |
| | *Mr. China's Son ---- a world-famed, textbook in many western universities and colleges in history and Asian studies courses; Lonely Planet & other guide books recommended villager's autobiography; It covers the World War II, the disastrous Great leap Forward, Anti-rightist Movement, Cultural Revolution as well as Yunnan's history and culture. (Westview Press, USA) |
| | |
| --- | --- |
| *The Spring of Butterflies ---- a collection of lovely folk tales and legends about the local Bai and other minorities of China. ---- A unique gift for children and friends. (Collins Press, UK; Lothrop, Lee & Shepard Books, New York). | |
| | |
| --- | --- |
| | *Zoon Van China ---- the Dutch version of Mr. China's Son is also available here.(Houtekiet, Belgium) |
At first, the book was just used as a special book for customs to read, but later many of the tourists want to buy a signed copy or copies for their friends as a special gift. Since we have got the permission to photo-copy in Yunnan from our publishers, we can sell a few singed photo-copies here in this café.
| | |
| --- | --- |
| Many tourists groups and students groups have come to Dali to meet Mr. He. He answer their questions. They consider Mr. He as "a piece of living history", many tourists and students said that visiting to Mr. He becoming their highlights of the trip to Yunnan. | |
| | |
| --- | --- |
| | Sometimes, Mr. He was invited to meet and talk to students in other places, such as Nanjing, Kunming. The picture was taken when he went to meet students from Bates College in Nanjing University in 1997. |
| | | |
| --- | --- | --- |
| | | Yes, you can visit many other places and people, but in Dali, Yunnan there is only one Mr. He, so if you head to Yunnan, don't miss the chance to visit this Old Piece of Living History! |
| | |
| --- | --- |
| There are more than 20 cafes in Old Dali Town. But many of them are not really Bai Minority. Mr. China's Son Cafe is opened by Bai Minority. We offer very good and typical Bai food. Such as 5-course Bai meal; Earthenware pot fish; Fried potato crabs; Dali cheese; Three-course-Bai tea; Fried eggplant cakes with sauce...We can prepare for visitors unique Bai-food banquet, and birthday parties. Don't forget to bring you friends to celebrate the birthday here! | |
| | |
| --- | --- |
| | Mr. China's Son Cultural Exchange Cafe offers a large number of good books for tourists to rent and exchange. It has a complete set of "Funk & Wagnalls New Encyclopedia" for customers to check. Here there are also many international magazines such as "National Geographic", "Time", "People"...Besides good food and good large quantity of books and magazines, we also help special visitors to visit special people and places. |
| | |
| --- | --- |
| Here the special people refer to those who comes to Yunnan for special jobs such as collecting cultural data, doing research works...... for this kind of work, people not only need a traveling guide, interpreter but also a capable helper who can organize, plan as well as have the ability to deal with all kind of local people. | |
Besides all of these, we also teach Chinese and Bai Language. Mr. China's Son, He Li-yi, is a retired teachers of English, his son Mr. He Lu-jiang is a teacher of English now. Both father and son have been specially trained as teachers, So, we have the best qualification to give some Chinese and Bai language courses in Dali.
While our Cultural Café is becoming the second home of the tourists, it also becomes our own second home in Dali. Our family often get together here and many of our family friends also come here to meet us.
| | | |
| --- | --- | --- |
| | Dear friends, Mr. He is always your friend here in Dali. Don't worry about anything. We would try our best to help you. You see, Mr. He is waiting for your coming! | |